Welcome Message to Delegates of
the Summit of Ophthalmological Societies from ASEAN countries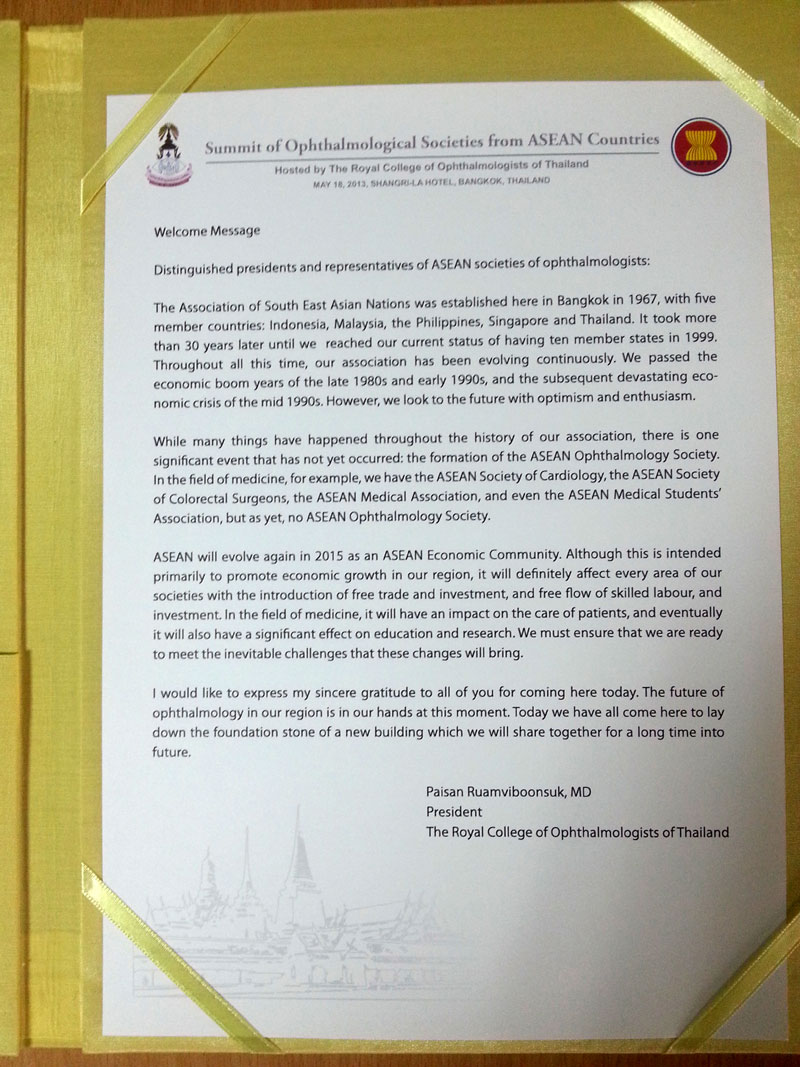 Distinguished presidents and representatives of ASEAN societies of ophthalmologists:
Many of you may have come to Bangkok on numerous occasions and for various purposes in the past, but no matter how many times you have come here and for whatever reasons, I believe that this time will be different. This will be one of your most important visits ever to Bangkok because we have come here today to accomplish a truly momentous task, one that many of us believe should have been completed long ago.
The Association of South East Asian Nations was established in 1967 right here in Bangkok, with five member countries: Indonesia, Malaysia, the Philippines, Singapore and Thailand. In 1984, Brunei joined our association, followed by Vietnam in 1995, and Laos and Myanmar in 1997. In 1999, we reached our current status of having ten member states with the entry of Cambodia into the bloc.
Throughout all this time, our association has been evolving continuously. It is true that we have had our ups and downs: who could ever forget the economic boom years of the late 80s and early 90s, and the subsequent devastating economic crisis of the mid 90s? However, we look to the future with optimism and enthusiasm.
While many things have happened throughout the history of our association, there is one significant event that has not yet occurred: the formation of the ASEAN Ophthalmology Society. In the field of medicine, we have the ASEAN Medical Association, the ASEAN Medical Students' Association, the ASEAN Society of Cardiology, and the ASEAN Society of Colorectal Surgeons, but as yet, no ASEAN Ophthalmology Society.
ASEAN will evolve again in 2015 as an AEC. Although this is intended primarily to promote economic growth in our region, it will definitely affect every area of our societies with the introduction of free trade and investment, and free flow of skilled labour, and investment. ln the field of medicine, it will have an impact on the care of patients, and eventually it will also have a significant effect on education and research. We must ensure that we are ready to meet the inevitable challenges that these changes will bring.
I would like to express my sincere gratitude to all of you for coming here today. I hope you will fully express your opinions, make comments, and take an active part in all discussions. The future of ophthalmology in our region is in our hands at this moment. Today we have all come here to lay down the foundation stone of a new building which we will share together for a long time into future.
With best wishes,
Paisan Ruamviboonsuk, MD
President
The Royal College of Ophthalmologists of Thailand